Kitchen sinks and mixer taps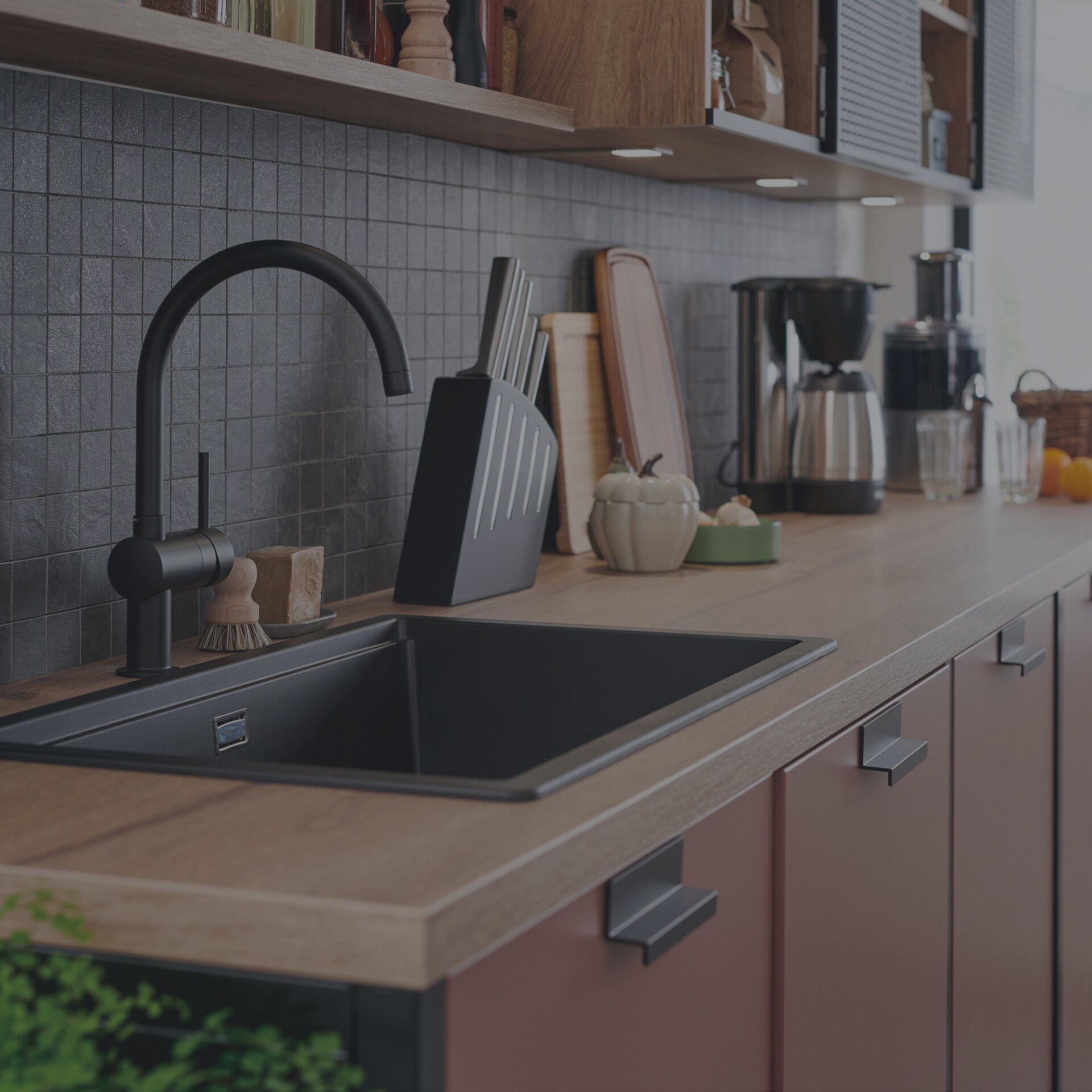 Did you know that you spend up to 60% of your time at the kitchen sink? Choosing the right sink unit is thus essential as it transforms a simple washing-up location into a real preparation area. Consider its design, ergonomics, ease of use and maintenance when realizing your kitchen project with your Schmidt Designer.
How to choose your kitchen sink according to your use?
Advantages of a single or double sink? With or without dish drainer?
- If you have a dishwasher a simple sink can suffice, even without a drainer.
- If you eat a lot of fresh fruit and vegetables, a second sink can be useful to wash and peel your fresh products.
- If you wash your dishes by hand, a double sink with a drainer is essential;
- If you only wash large saucepans by hand, a single large sink can suffice.
Our large sink model offers easy washing for large dishes, especially those that do not fit in the dishwasher, it is by far the most popular size we supply.
Our designers in the showroom know how to advise you by taking into account your lifestyle and the design of your fitted kitchen.
What fitting type for your sink?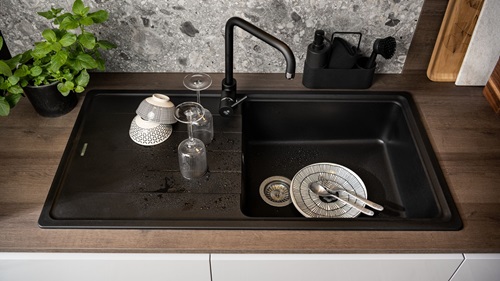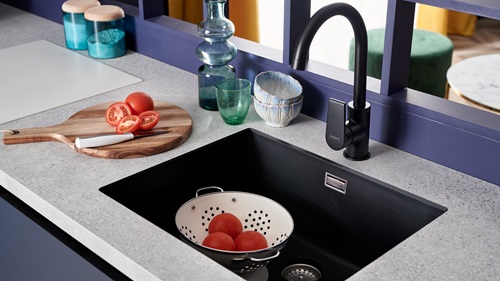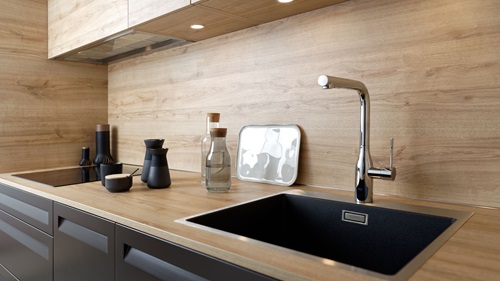 What material suits you the best?
Aesthetic and functional: the choice of sink is extremely important and depends on your use. This has an impact on the kitchen design but also on the ease of maintenance. As your kitchen sink is central, Schmidt designers combine pleasant and useful features with a selection of high quality sinks that are accessible and resistant.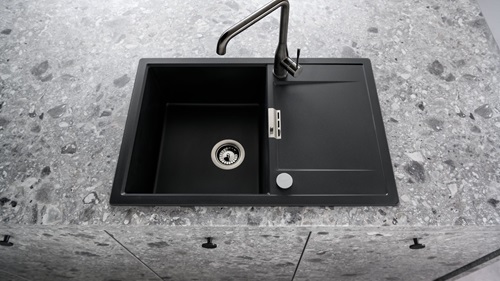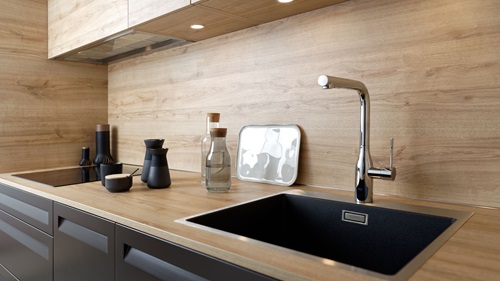 Ceramic sink
Ceramic sinks create a warm atmosphere for your cooking preparation area. They are appealing with their fluid lines and enamel surface. Available in many colours - matt or glossy - they work beautifully with the right worktop. Ceramic has many benefits: it is very resistant to knocks and scratches, and it can withstand both hot and cold temperatures. It is stain-resistant, and is very easily maintained, allowing you to enjoy your kitchen sink for a long time.
Meet your interior design specialist
and receive a free quote for your project
Automatic or manual waste?
An automatic waste has a lever that allows you to open and close the sink valve without plunging your hands into dirty or cold water. While the manual pop up waste system gives you a more cost-efficient product, the automatic pop up waste system is more convenient. Further thought can make the sink-area even more useful. What about a removable chopping-board, which fits over the sink to give more worksurface, or a built-in soap dispenser – both practical and attractive. We also supply draining baskets in stainless steel, or for the keen cook, how about a separate multi-function sink – for cleaning fruit and vegetables, rinsing plates etc etc!
Which mixer tap for your sink?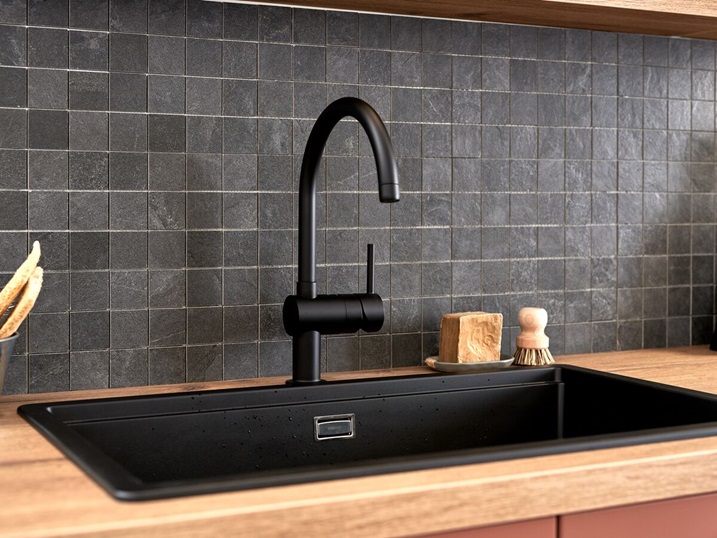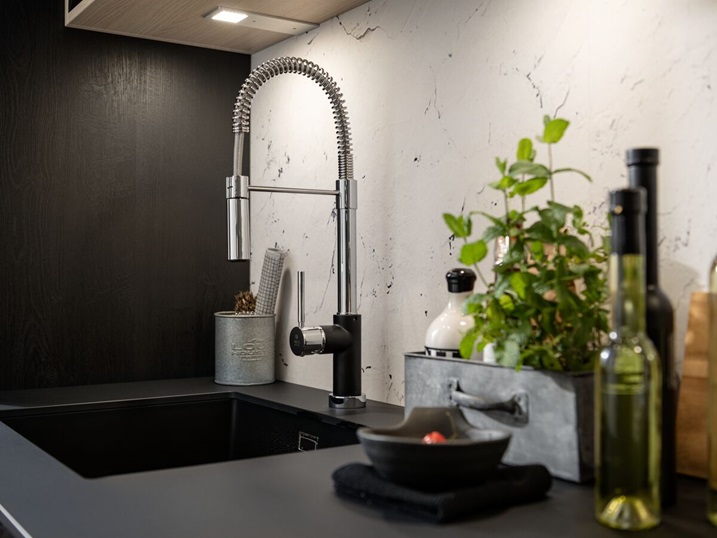 How to choose your mixer tap
The perfect combination of sink and taps creates harmony in line with the style of your kitchen. Taps are used all the time in a kitchen and play a significant part in your satisfaction with your kitchen. Chrome plated, satin, coloured or timeless, the choice is vast! We have selected the major brands, which use the best materials and the latest technology for you to guarantee quality and lifespan whilst also giving you a design that appeals to you. We love an appealing and practical mixer tap! The pull-out spray attachment or aerator is a huge advantage. You can fill containers outside of the sink, and clean the sink drainer easily. You can switch from a normal jet to spray jet for different applications.

Most of our mixer taps even help you to make energy savings! With only 3% of water in the world of drinkable quality, it makes sense to try and conserve water wherever possible. Most of our mixer taps are fitted with a water saving cartridge in order to help you reduce your water consumption without sacrificing the performance of the tap, the cartridge also reduces the amount of hot water used, which can help save up to 25 % on energy.
Our exclusive Schmidt mixer taps
Are you looking for a tall or small mixer tap? With or without a spray head? Featuring a chrome, stainless steel, black or golden finish? We offer over 40 exclusive mixer tap models to suit your every taste and your every need.