Bespoke industrial kitchens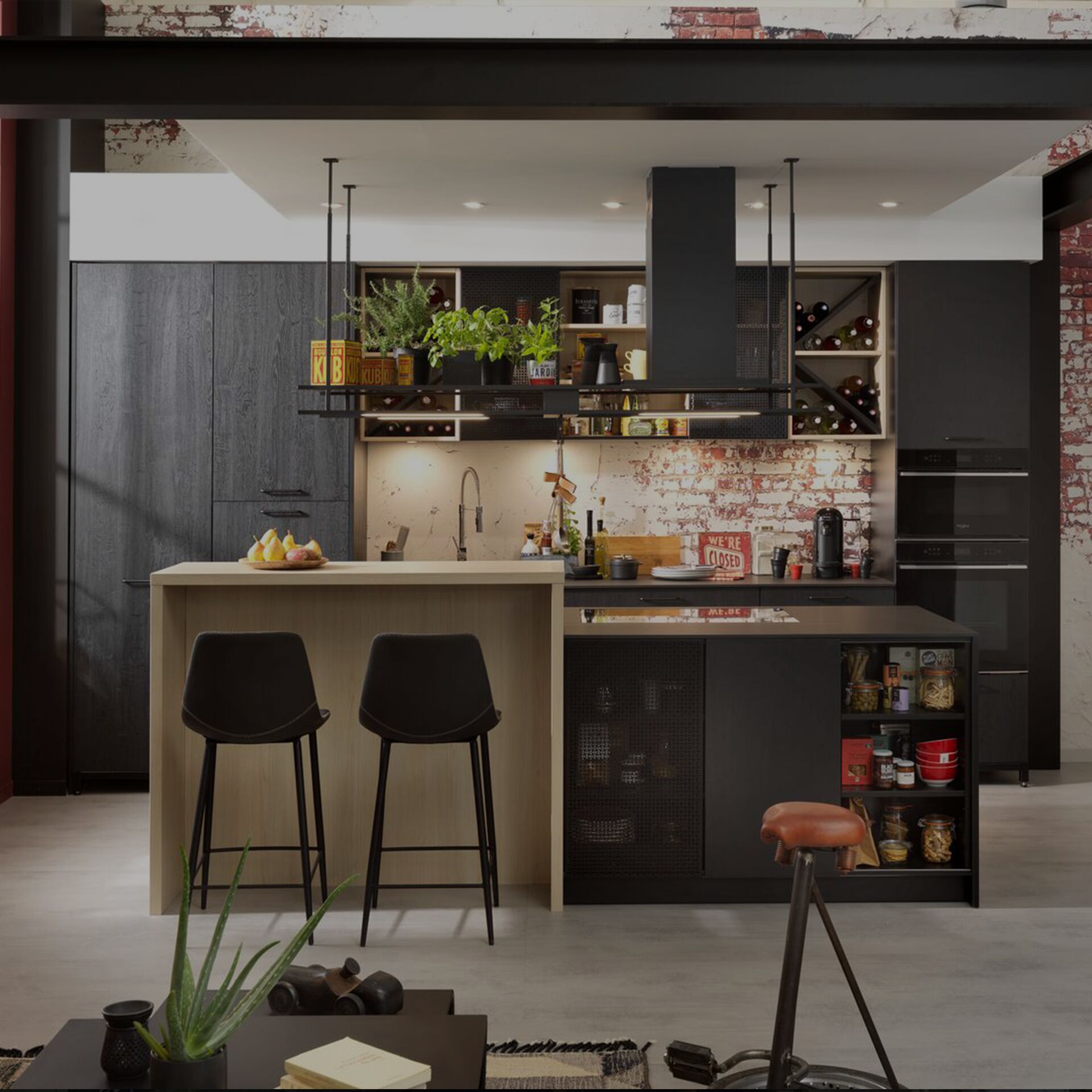 What colours should you choose for an industrial kitchen?
With an industrial kitchen, the materials are even more important than the colours. The dominant colours are black metal as well as the lighter natural tones of wood. Brick and tile effects are also a welcome addition, such as a splashback or a wall covering behind the units and shelves in a grey kitchen. For the floor, you can either choose large black or grey tiles to take advantage of their trendy size and complement the black metal finishes in the kitchen, or a wooden floor for a stylishly contrasting effect with the metal. However, there is nothing to stop you from choosing coloured metal light fittings or fronts to emphasise the designer look of your industrial fitted kitchen, although you should prioritise matt colours.
The essential accessories for an industrial-style kitchen
There is no shortage of ideas when it comes to designing an original and personalised industrial kitchen. All you need is some essential eye-catching accessories. Metal stools can easily be integrated into a black industrial kitchen. As for fronts, black or gold metal handles are a must. Simply go for a shell shape for an extra touch of vintage charm! Partition windows are one of the great classics in an industrial kitchen. These stylish features allow more light to stream into the kitchen and require little installation work.
Combining lighting and decoration in an industrial kitchen
Several possibilities are available for choosing the type of lighting to suit your specific needs. Filament bulbs suspended from cables and/or wrapped around wooden battens bring the perfect touch above an industrial kitchen island. Larger hanging lights above the table are more than welcome. Choose a full or openwork metal lampshade to take the industrial style all the way up to the ceiling!