Welcome to L'Epicerie Schmidt!
The L'Epicerie concept is currently one of the hottest trends and a firm favourite among homeowners with a taste for modernity and authenticity. Its success can be explained by the infinite range of styles and wealth of products, including black metal frames, end units, open units with sliding fronts, crate-inspired units and decorative storage units. Individual products can easily be fitted in any kitchen. Modernity and authenticity are the hallmarks that define this new concept. What are you waiting for? Check them out now!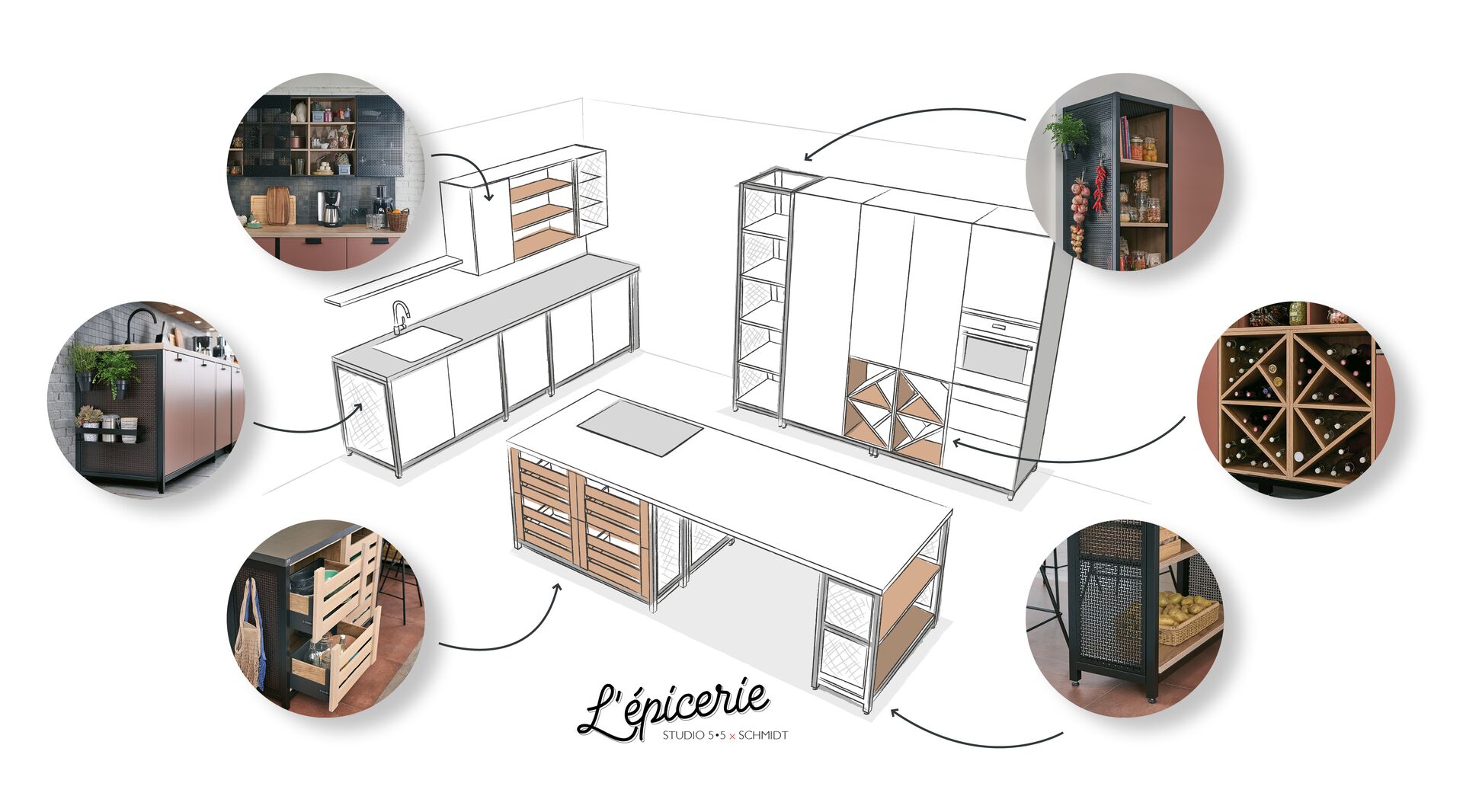 New consumer trends embracing healthier lifestyles, local produce and recycled materials, along with a comeback in loose produce and jars… A new Slow Lifestyle where consumers look after themselves and others… Better living, better consumer practices and focus on taking care of the family…
Schmidt has designed a kitchen to accompany and support the new consumer lifestyles. Come and check out L'Epicerie Schmidt. It is so much more than a simple kitchen. It is a place where customers can treat their senses, especially their sense of sight and smell, and a place where they can treat themselves. Our new kitchen illustrates our very own interpretation of a deli, a place whose charm often lies in its generously stocked shelves and its friendly atmosphere, while offering a semblance of order among the plentiful products on display.
Discover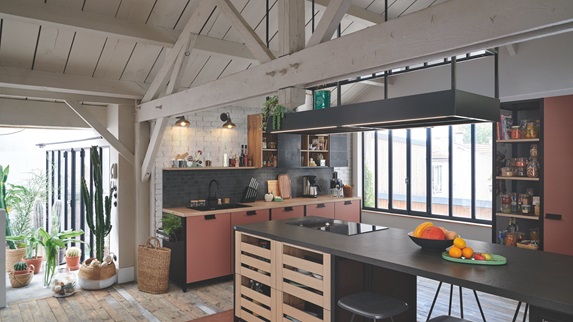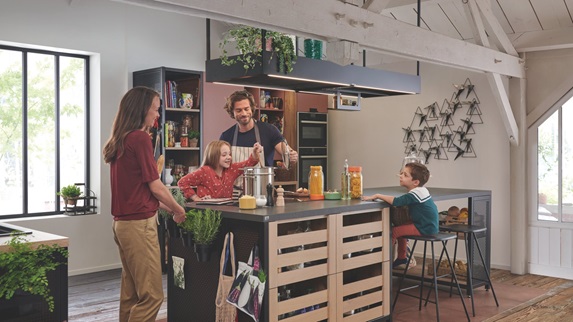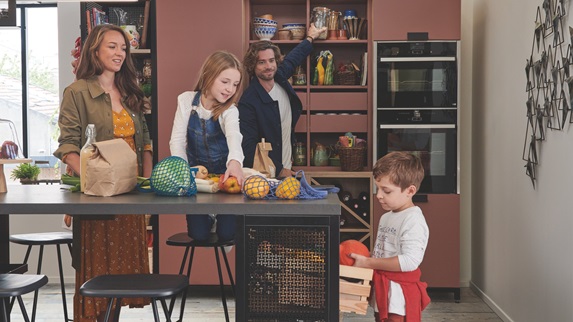 The L'Epicerie concept has been carefully and specially designed by our experts to match your desires, needs and lifestyles. Schmidt has drawn on its full expertise to deliver a unique concept where the keywords are sharing and socialising. The L'Epicerie concept truly opens up the kitchen into an area where homeowners can entertain, share unforgettable moments and express their creative streak.
Stay at home, invite friends and family around, and show off your culinary showstoppers... Epicerie kitchens are all about living in the present, spending quality time with others and creating a laid-back atmosphere and a feeling of complicity. Don your apron, unleash your inner masterchef and amaze your guests... that is exactly what Schmidt is hoping to achieve with L'Epicerie!
A collaborative effort with Studio 5•5
The L'Epicerie concept was masterminded through Schmidt's collaboration with Studio 5•5*. Our aim was simple, namely develop a strong, recognisable concept with the determination to fulfil our customers' needs and lifestyles.
* Studio 5•5 is a collective that specialises in both product innovation and brand strategies / identities.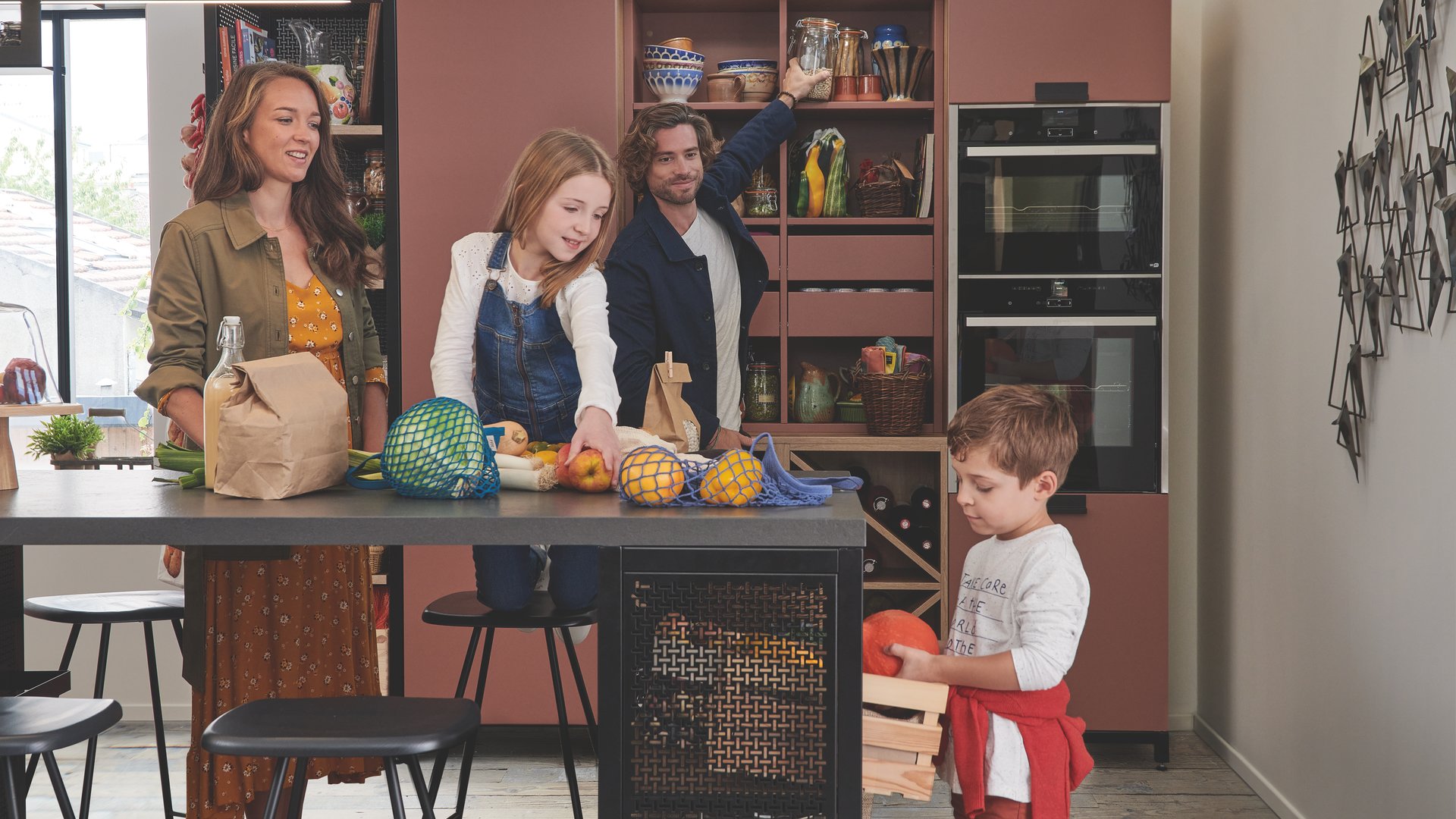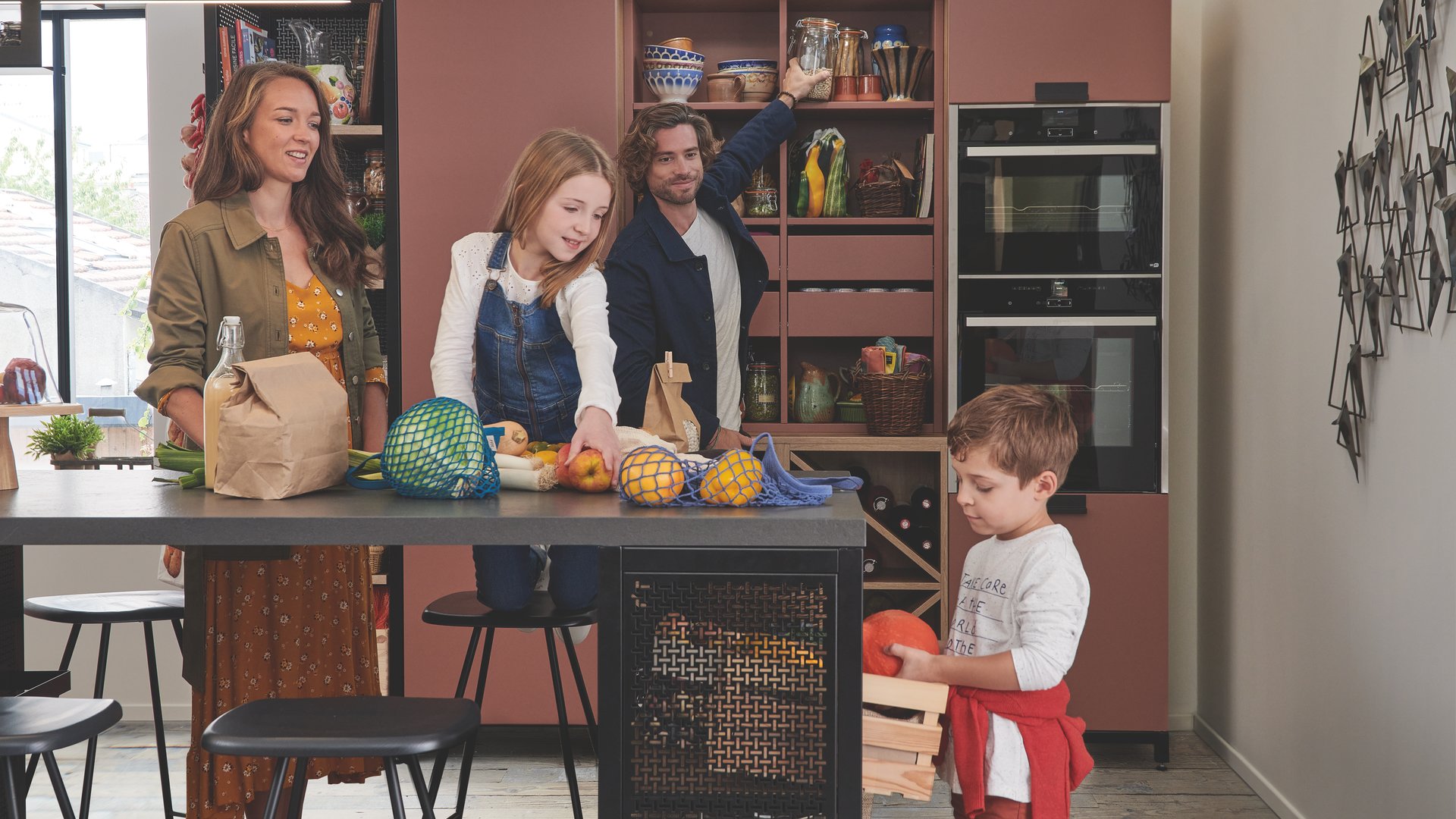 One concept, three kitchens
The L'Epicerie concept reflects two of Schmidt's strong ambitions, i.e. create a kitchen that embraces today's new consumer lifestyles and meet its customers' needs with functional designs. We are looking to show the concept's wealth of design possibilities. We want to show that each unit is independent and can be fitted in any kitchen to match a whole range of styles. Have you been dreaming of a stylish kitchen with a bistro feel or a warm and natural-looking kitchen made from fully recycled panels offering major functionality? Then turn your dream into a reality and bring our new concept into your home interior!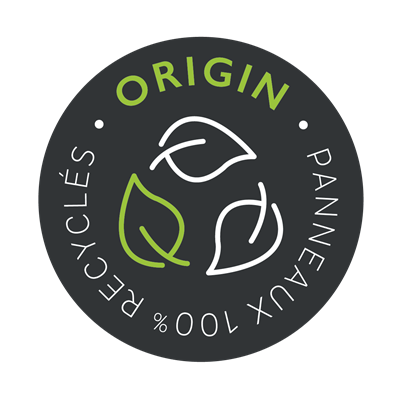 Offering a natural and warm look, this zero waste kitchen has been designed from fully recycled panels and is ideal for the family. The combination of woven grey and raw wood produces a sober and refined style. Accessories can easily be hung on the mesh panels, while the black metal frames reflect the design codes behind the L'Epicerie concept. Interaction, socialising and functionality are the defining characteristics of this kitchen. Inviting friends and family around is real child's play with the large table and ample storage space!
Discover this zero waste kitchen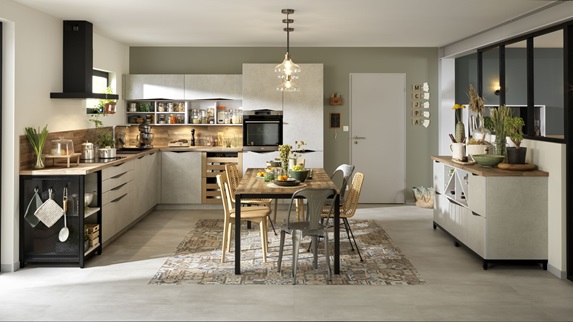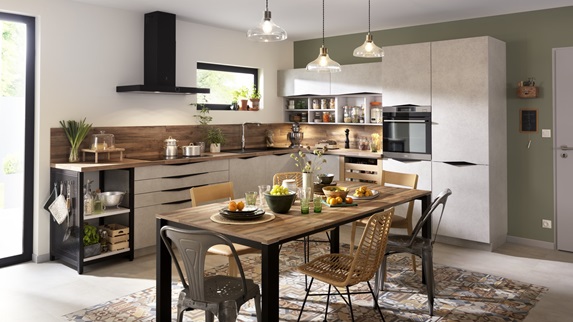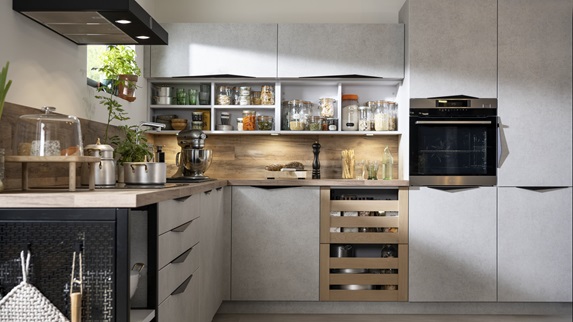 This bistro-look kitchen is appropriately named! The subtle blend of black metal and different wood varieties brings an authentic touch and an industrial feel to the kitchen to create the impression of a real workshop. The kitchen is clearly fitted with elements from the L'Epicerie concept, such as the black metal frames, the sliding mesh fronts and the decorative storage units. The central island is so practical for entertaining friends and family, and is guaranteed to create fun times together!
Discover this bistro-look kitchen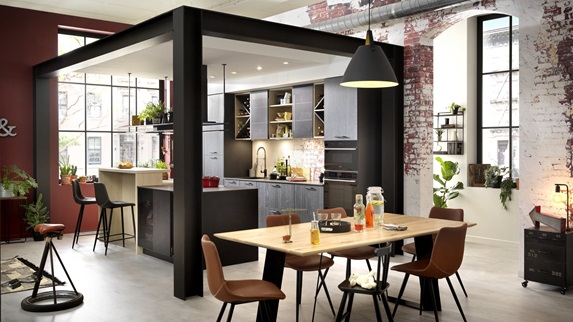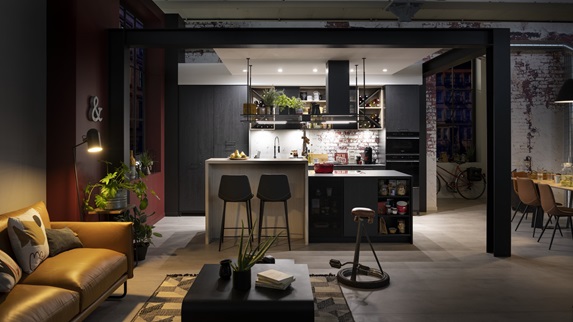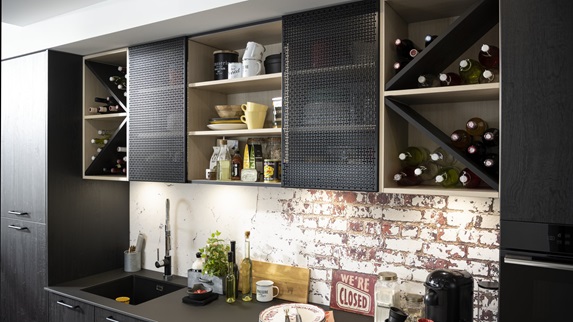 The different elements of the L'Epicerie collection
The L'Epicerie kitchen truly does justice to its name with the wide range of elements available in the collection. Each feature has been carefully designed and created by our experts with the primary aim of meeting the need for superior functionality, which is both an essential and fundamental part of the kitchen design process. Have you been dreaming of mesh fronts to hang your prized accessories and keep everything within easy reach at all times? Or a unit that has been specifically designed to tidy away your vintage wines or a crate-inspired design for an Epicerie-style kitchen? What about sliding fronts made from wood or mesh to bring an extra touch of style and authenticity to your interior? What are you waiting for? You will find everything that you have been dreaming of at Schmidt!
Frames
Available in simple and medium versions, these French-made frames are engineered from stable and robust matt black metal to bring an all-new look to your kitchen units!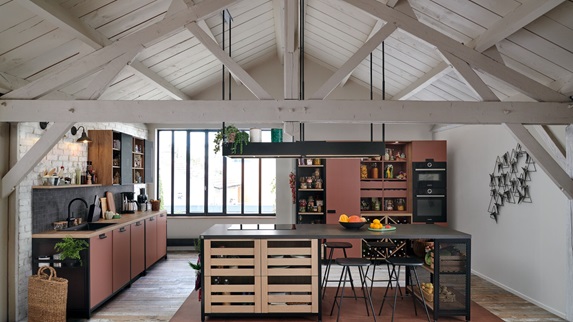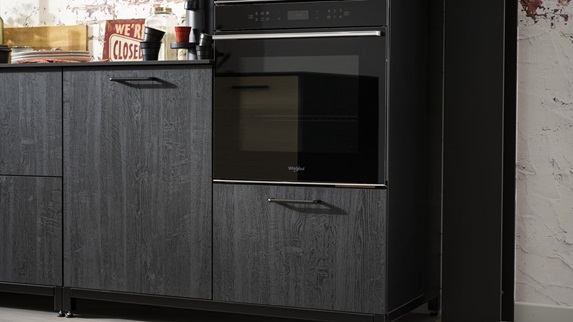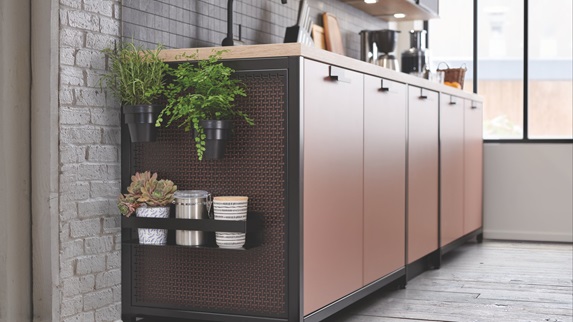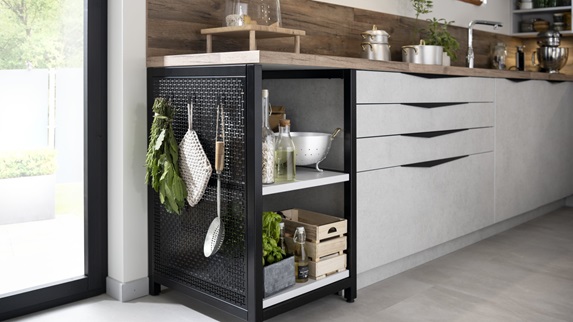 Accessories
These designer units with their mesh fronts (exclusive Schmidt pattern) will allow you to hook on your favourite accessories, keep your most beautiful plants close to hand with the plant holders and show off your collection of jars on our shelves!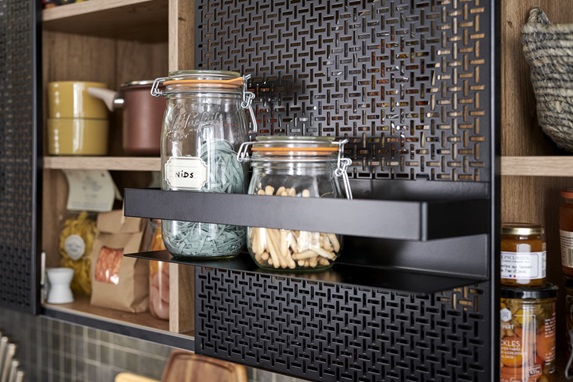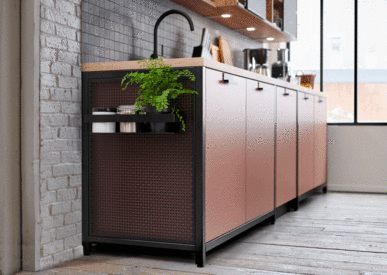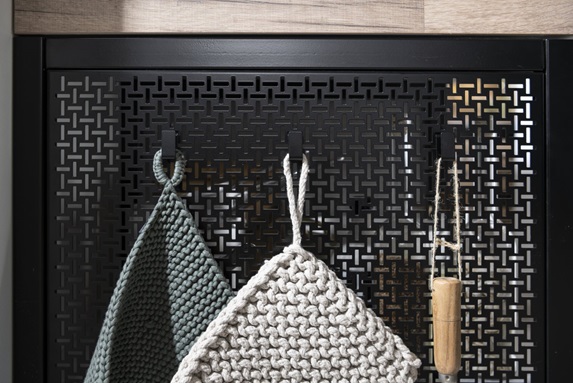 End units
These decorative metal units (for island ends, etc.) are a must-have for emphasising the L'Epicerie concept look. They can even be fitted in the most classically styled kitchens. They are the ideal solution for tidying away all your groceries!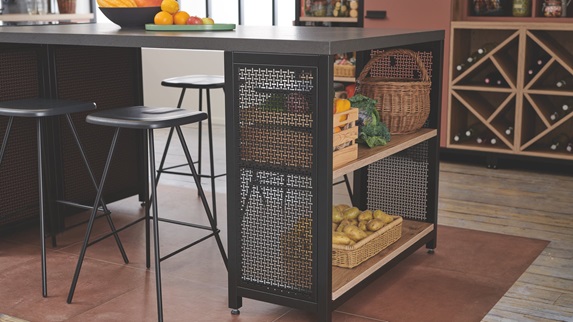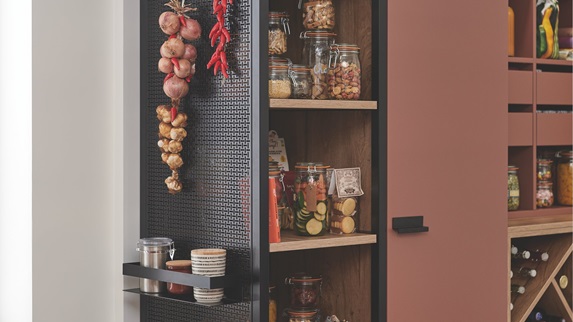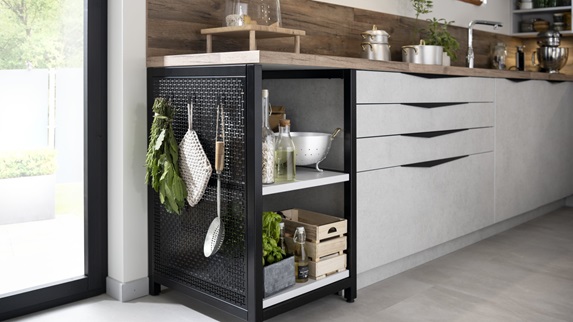 Diagonal / T partition unit
Want to store your bottles while keeping them within easy reach? Now you can with our decorative unit solutions. They are perfect for reinforcing your kitchen's look and will easily blend in with any style. You can choose from over 700 colour combinations!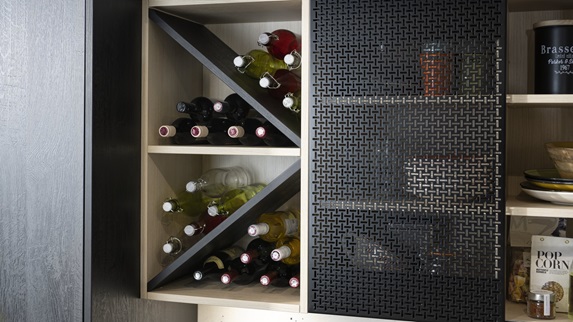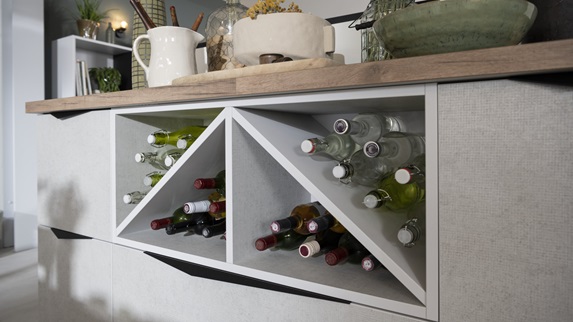 Double sliding door unit
Whether open or closed, or featuring a wood or mesh effect, you can choose the unit fronts to suit your every need and desire. These units provide extra storage space, and the sliding fronts offer quick access to the different items stored inside.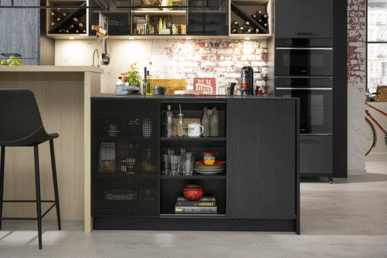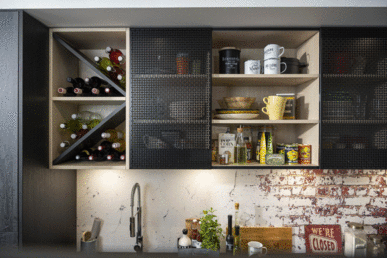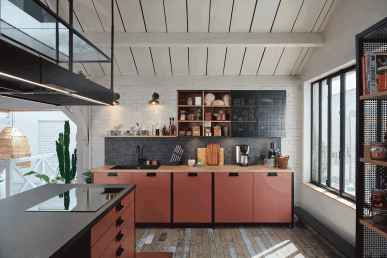 Crate unit
Bring extra warmth and authenticity to your kitchen with our crate-inspired units. The front has been created by the designers at 5•5 and is exclusive to Schmidt. Boasting a solid wood (oak) design, these French-made units will prove simply irresistible!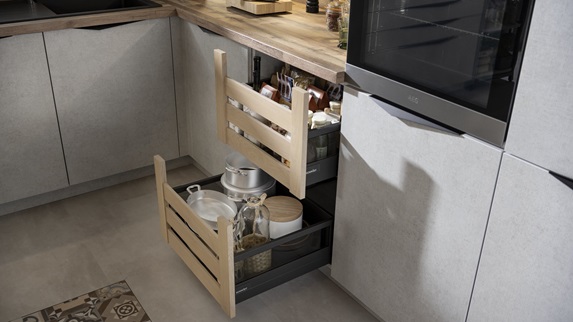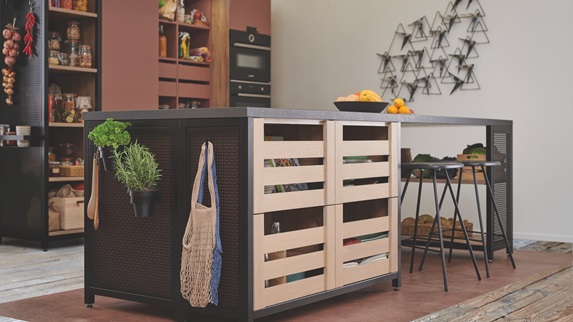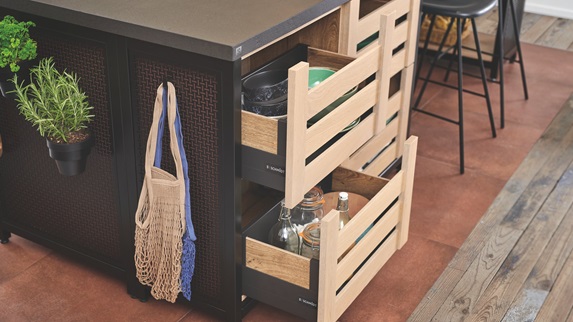 The L'Epicerie concept is a match made in heaven for any room in the home. What could be more important than storage? Plenty of storage space is a must for any home interior, but thanks to Schmidt, you never need to sacrifice style for storage space! Take a look at the new collection of L'Epicerie storage solutions and bring a complete sense of harmony to your home interior.
This sideboard unit ticks all the boxes. It features a wall unit with sliding mesh fronts and a base unit with a black metal structure! Offering plenty of practicality and functionality, it blends seamlessly with an industrial-look interior!
Discover this sideboard unit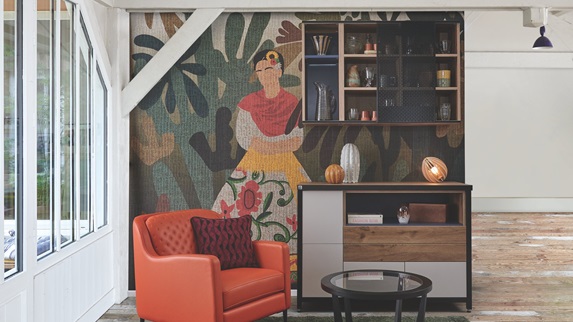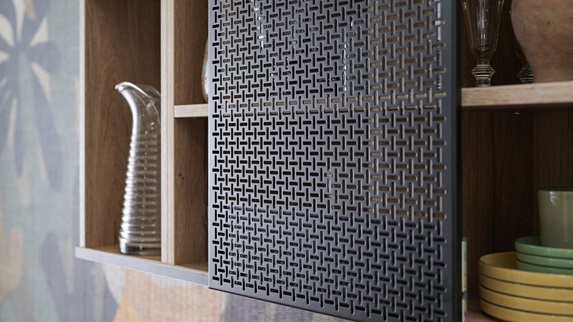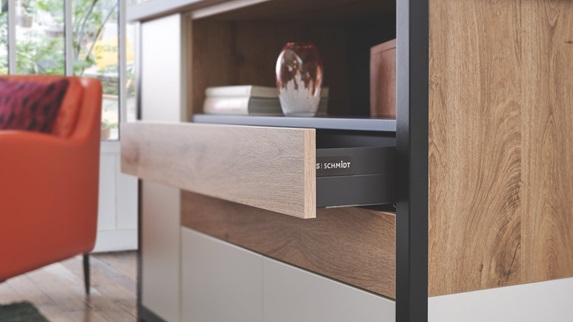 This writing desk is so practical and stylish! This two-in-one unit (desk area + small chest of drawers) integrates seamlessly into the home interior. As an added bonus, the glass leg gives the impression that the desk is floating in the air!
Discover this writing desk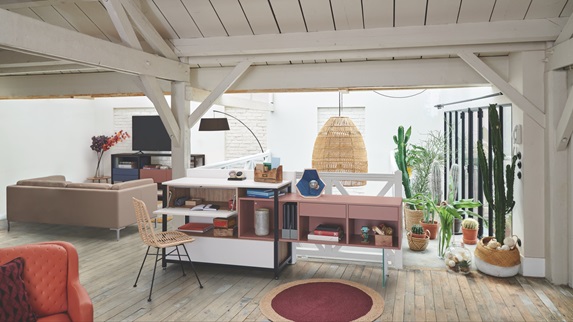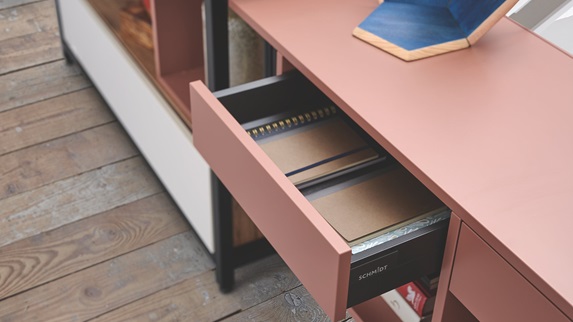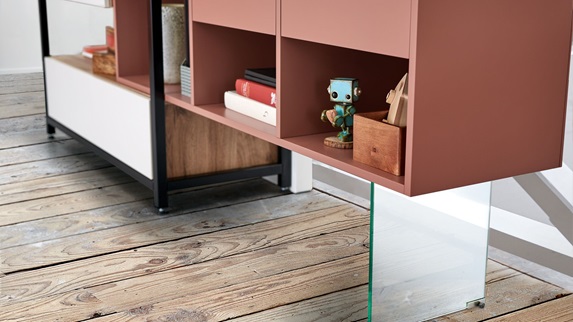 The black metal frame of this designer TV unit perfectly matches the industrial style of the home's other units. The pull-out drawers and cubbyholes are so practical!
Discover this designer TV unit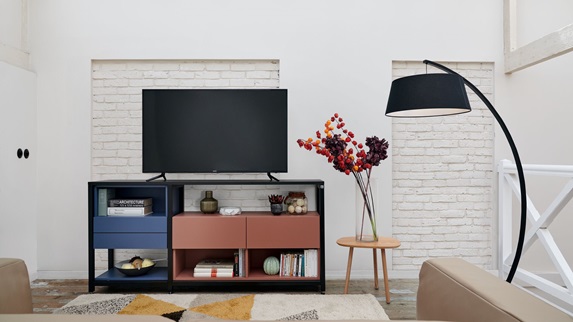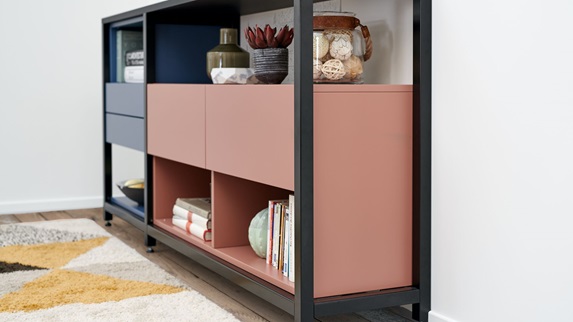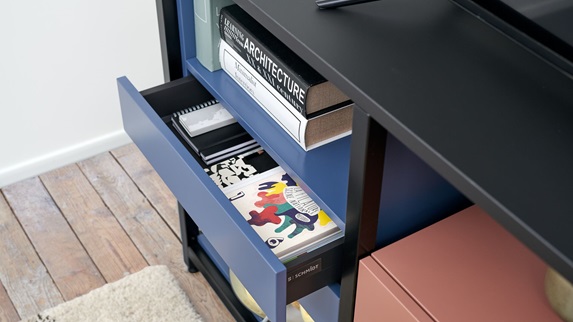 Want to store your finest wines while keeping them within easy reach? Then go for this practical and stylish sideboard unit. The exclusive Schmidt handle and black metal frame blend perfectly into this kitchen!
Discover this stylish sideboard unit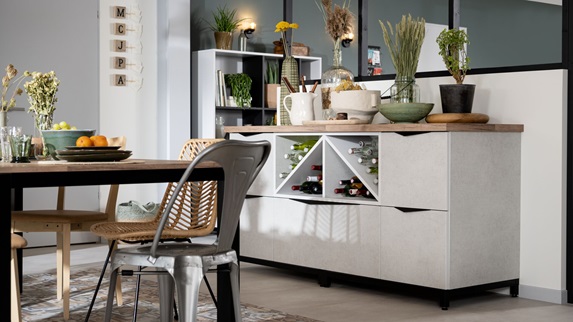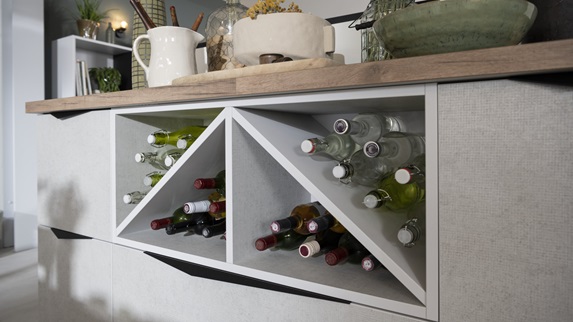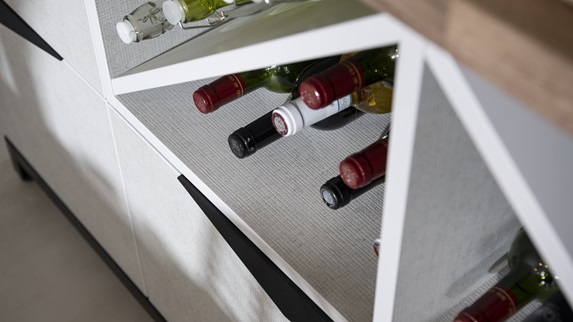 This two-in-one design (bookcase unit + reading area) is so practical. On one side, the bookcase has been designed for storing all your books and ornaments in the open cubbyholes. On the other side, the small reading area is the perfect place for a storytelling session with your children. As an added bonus, the two pull-out drawers provide even more storage space!
Discover this bookcase bench with pull-out drawers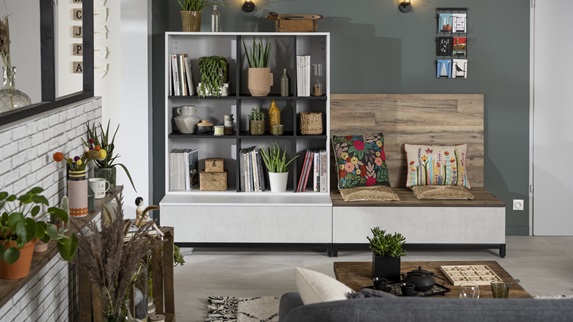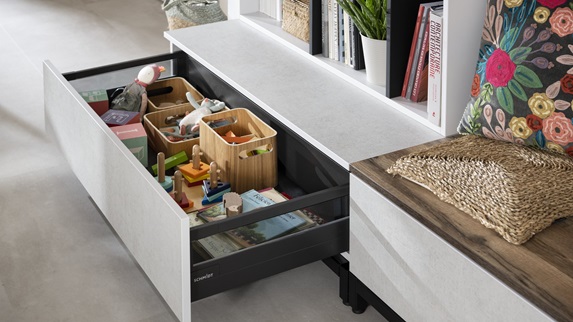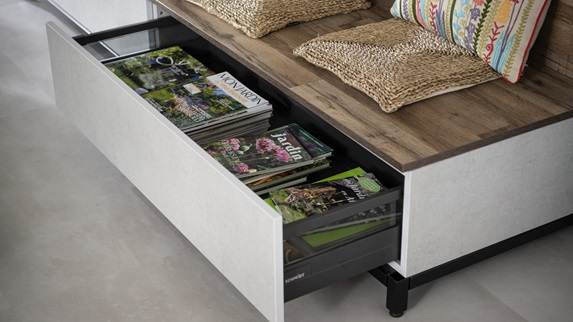 Feel free to bring our new concept into your bathroom! With its industrial-look black metal frames, the Chic Factory bathroom proudly features a bold design. As an added bonus, the large washbasin unit with its spacious drawer is perfect for tidying away all your possessions, while the large storage unit with its sliding mirror door is not only incredibly practical, but a must-have for homes with children!
Discover this Chic Factory bathroom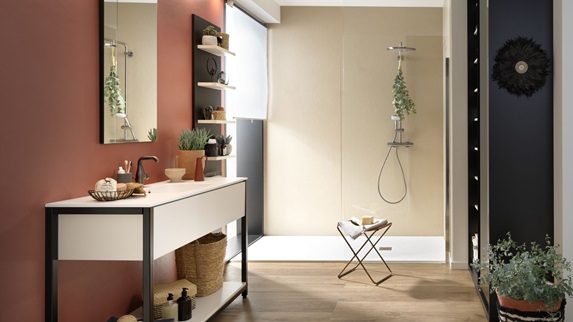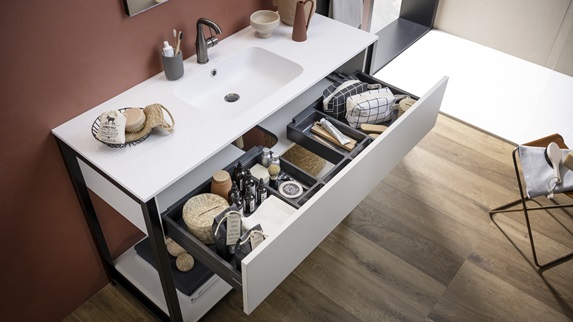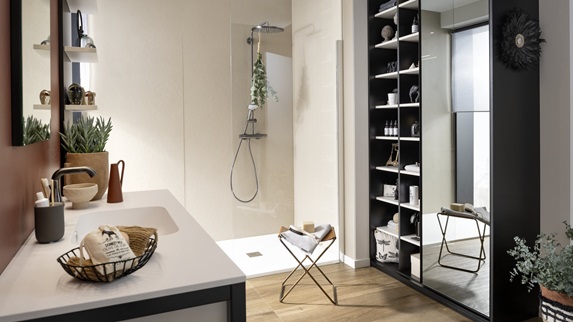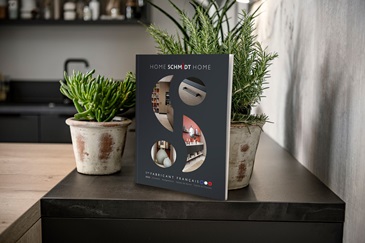 Browse through the Schmidt world catalogue in the privacy of your own home.