Choose the right splashback for your kitchen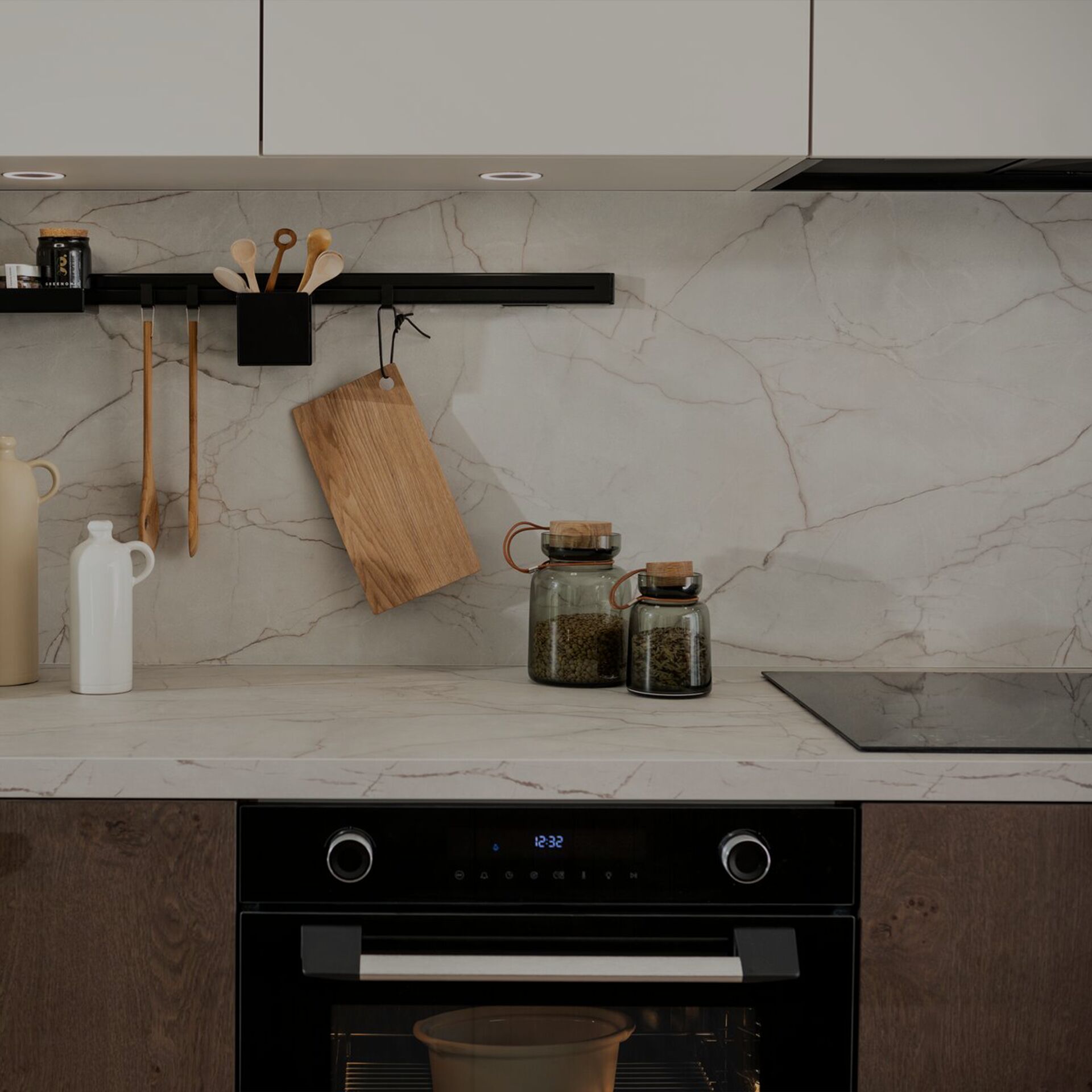 The splashback is a material for decorating kitchen walls. It is fitted between the worktop and the wall units. Not only does a splashback protect your kitchen's surfaces, but it also brings extra character and style to your interior. It plays a central role in your kitchen's design by adding a finishing touch to the look. As such, it is important to take the time to choose the right model.
Go for a functional kitchen splashback
Above all, a splashback plays a functional role. It makes your kitchen much easier to clean, provided that you choose the right materials. Laminate and glass splashbacks are extremely easy to keep clean. A quick wipe with a sponge is enough to get rid of any splashes when prepping meals. Therefore, some customers decide to fit the splashback on the wall sections near the hob and appliances.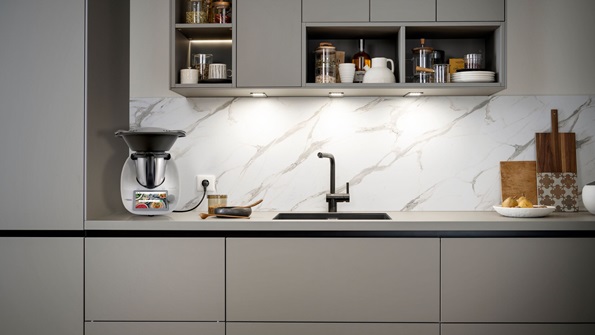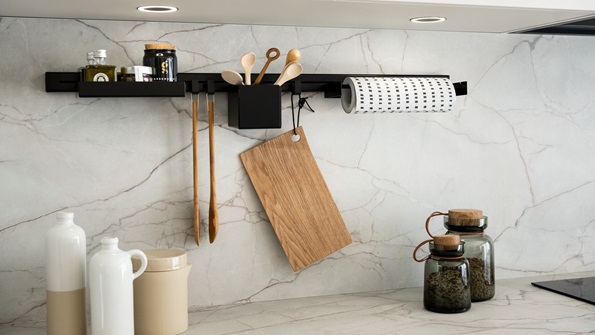 Another option involves fitting a kitchen splashback over part of the wall only. Some splashbacks look like plinths, which are known as "upstands". They run along the full length of the worktop and create the impression of a continuous surface. Therefore, they are made from the same material as the worktop. Most of the time, they are laminate, but they are also available in ceramic, granite, wood and concrete. These eye-catching solutions bring an elegant touch to the kitchen. However, they offer slightly less protection against splashes on the walls, since they are not as high.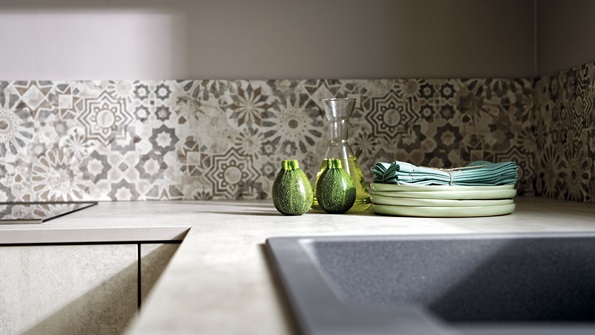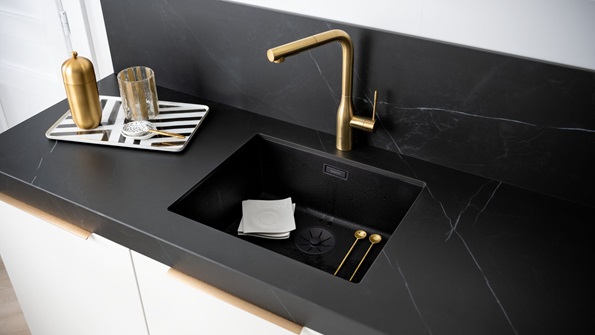 If you go for this type of kitchen splashback, you can add a stainless steel or tempered glass splashback behind the hob to protect the paintwork. In addition, this type of splashback is strongly recommended for areas in the kitchen that are prone to variations in temperature. This especially applies to walls behind hobs. These materials are heat-resistant and provide greater safety.
What type of kitchen splashback should you choose?
Laminate: the universal choice
Laminate splashbacks are a popular choice, because they offer a number of advantages. This kitchen splashback is simple to fit, can easily be cut and is available in a wide range of colours and material effects. Depending on your tastes, you can opt for a wood, concrete, stone, tiled or metal effect. These finishes adapt to every style of fitted kitchen. Laminate splashbacks also boast an excellent price/quality ratio. With their high resistance, they will offer many years of faithful service. They are so easy to clean: a bit of soapy water and a quick wipe with a cloth, and the job is done!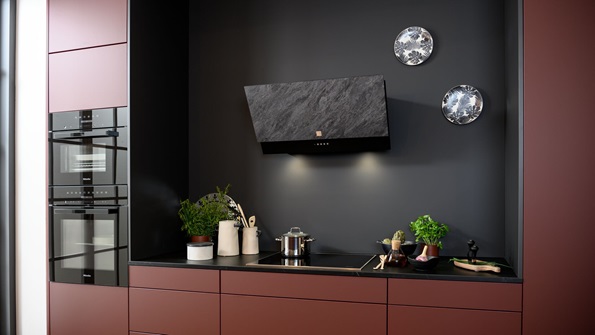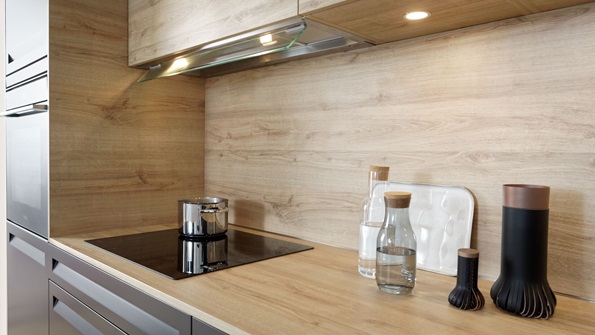 Quartz splashback
The finish on this easy-to-clean splashback is almost identical to stone. Pair it with a matching worktop for an extremely sophisticated look.
Ceramic splashback
The stone-look finish on this splashback is exceptionally low maintenance. Ceramic is also highly heat resistant, so it is the ideal solution for fitting near a gas hob.
Stainless steel splashback
Stainless steel is one of the great classics and conjures up images of a professional kitchen. It is used extensively for its easy-to-clean qualities and its strength, especially its resistance to heat, meaning that it can naturally be found behind a gas hob.
Lacquered glass splashback
Lacquered glass splashbacks bring a very sober and stylish touch to the kitchen. Schmidt offers these splashbacks in a range of neutral colours, including white, grey and magnolia. Easy cleaning guaranteed!
Printed glass splashback
These splashbacks are anything but sober. If you are looking for a bold style, then you will be delighted with these printed glass splashbacks. Our collection includes a number of trendy prints, including a metro design, a geometric design and cement tiles.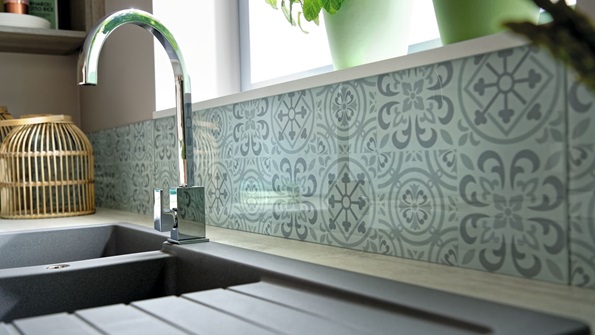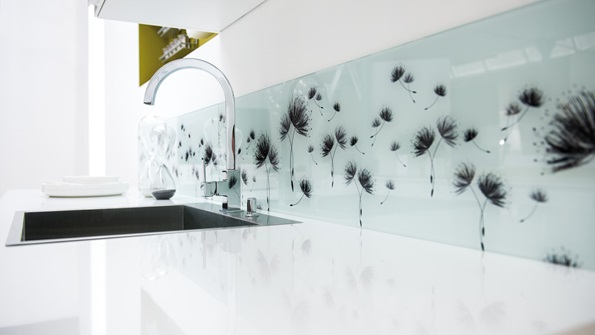 You hesitate about the choice of materials and colours?
Get inspired in store with our samples and take advantage of our experts' advice
The other types of wall coverings (not listed in the Schmidt catalogue) :
Tiled splashback
Wall tiles are a classic and highly popular choice. Well laid tiles create an elegant and refined finish. There are countless possibilities and colours in every DIY store. If you have a classic kitchen, choose sober colours or instead go for a slightly more original design to create a more contemporary look. Paris metro-style tiles have been all the rage in recent years. Tiles are no longer restricted to typical white and are now available in a whole range of colours. If you are unable to make up your mind about the type of wall covering, tiles are always guaranteed to be a winner.
Wall panels: the cost-effective alternative
If you are working to a tighter budget, you can choose from other materials offering satisfactory quality and a lower price tag. Once fitted, they produce a highly stylish effect. When it comes to the latest home design trends, wall panels often get a mention. They are both easy to install and clean. They are available in many different shapes and styles. Some models come with an adhesive backing, which will delight all those who prefer to steer clear of DIY. The advantage is that they can easily be removed. If you get bored with the panels, it is not hard to change them.
Render for avid DIYers
Concrete coatings and renders also represent an excellent alternative. However, a fair amount of skill is required to apply the coating. Do not get stuck in without first carefully reading all the instructions. Otherwise, you could waste your time and money. But if you have confidence in your DIY skills, the finish will be flawless and create an industrial or modern look depending on your kitchen and your units.
Anything is possible when it comes to kitchen splashbacks!
Depending on the colour of your kitchen, you can create a more original touch with the colour of your splashback. If your units are in white monochrome, a warm splashback colour can liven up your kitchen. Anything is possible with a kitchen splashback. Whether you want to produce an eye-catching effect or a more discreet look, the choice is yours. You can even create a handy and practical splashback by applying a magnetic coating or chalkboard. Whatever your tastes and desires, you will be spoilt for choice.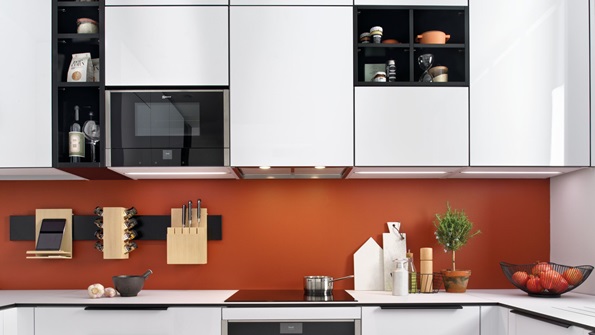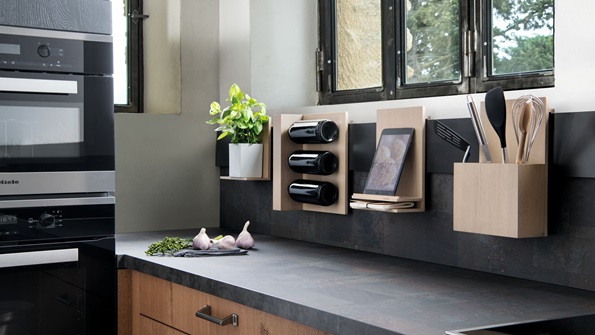 Remember that splashbacks can easily be changed. When you invest in a kitchen, you will be keeping it for quite a few years. But it is a different story with the splashback. You will find splashbacks at affordable prices, so you can change them whenever you want. Do not forget that you can easily give your kitchen a makeover by fitting a new splashback!
Check out all our colours
Whether for splashbacks, worktops or unit fronts, browse through the SCHMIDT catalogue in the privacy of your own home and discover the wealth of possibilities for personalising your kitchen and choosing the colours and materials to suit your specific needs and desires.