White kitchens: a true classic
White, the ultimate bright colour, is the key to a truly sublime kitchen. There are several reasons for choosing a white kitchen. If you fail to fall in love with its classic and timeless look, you will still adore the countless options available from Schmidt. You will soon realise that a white kitchen is a must-have. With its extensive range of styles, infinite finishes and endless combinations, white is the key to the most extravagant designs without any fear of committing an interior design faux pas. You can rest assured that in choosing this timelessly fashionable kitchen, you will be making a sound investment. It's up to you to decide!
Why choose a white kitchen?
Aside from its natural elegance and its inherently soothing atmosphere, a white kitchen boasts many other practical advantages. First of all, it is the perfect alternative for creating a larger space. White captures the light and immediately gives the illusion of a much more spacious room. It is especially suited to corridor, narrow and galley kitchens. White acts as a magnet for light and creates both a calming and refreshing mood throughout the room, which seems a lot more spacious. If you would like to accentuate the sensation of space and light, go for a lacquered finish. This type of finish reflects light and enhances your interior. Last and by no means least, white is a neutral colour that will go along with all the fantasy touches that you want to add to your floor or walls.
When thinking about your future bespoke kitchen units, we will take a look together at the finishes best suited to your needs and your daily lifestyle. For example, a white lacquered kitchen will create a stunning effect with its clean and ultra-contemporary feel. Worried about its cold appearance? Simply add some accessories, such as wooden elements or vintage bronze handles, to create an inviting and cosy kitchen. Matt white is a must-have for followers of the latest fashions. It will give your light kitchen an unrivalled look while highlighting your beautiful work surfaces. A matt white kitchen will find a perfect match with a less sober splashback featuring geographic motifs, mosaics or highly trendy cement tiles. Whether a lacquered or matt finish, rest assured that both are easy to clean.
If you are still wondering why you should opt for a white kitchen, all doubts will vanish once you have discovered all our available styles. A Scandinavian kitchen with soft natural influences, a clearly minimalist style, a contemporary industrial look with an eclectic touch, an English country cottage design or a warm, inviting kitchen... these are just some of the many possibilities for creating a unique designer white kitchen that reflects your personality. You will never grow tired of this living area for the entire family, and it will never show its age. Whatever style you choose, your kitchen will be warm and inviting with its incredibly relaxing atmosphere, meaning that you can spend enjoyable moments around the functional and stylish units.
A white fitted kitchen that matches everything
Even though a white kitchen is a must-have for a totally monochrome look, you can still combine it with other colours and prestige materials. For instance, a white and wood kitchen is undoubtedly one of the most popular choices at the moment. The immaculate white is paired with a warm, noble material. The blend of modernity and nature prevents the kitchen from looking too designer-like. The wood can either be left in its natural state or stained white for a more harmonious effect in the room. Far from being rustic, this combination instantly brings character to the kitchen. Other materials are perfectly suited to mixing and matching, which helps enhance your kitchen's style, including stainless steel, waxed concrete, imitation marble and copper. Originality goes hand in hand with a white kitchen, so have fun!
To perk up a white kitchen, there is nothing like painting the walls. You are spoilt for choice with pastel colours, flashy colours and high-impact tones, including black and grey. Black actually brings out the white with its deep intensity and can be used to surround units to make them stand out for a perfectly balanced look. Another alternative for livening up the kitchen is wallpaper. A wide variety of wallpaper is currently available on the market, and humidity-resistant versions are specifically designed for rooms such as the kitchen. When it comes to the floor, you can go for an all-white design with matching tiles. Whereas light, natural parquet flooring creates a sleek and cosy feel, a highly graphical chessboard floor attracts the eye. Lastly and regardless of your chosen floor covering, your white kitchen will always adapt, which is yet another advantage.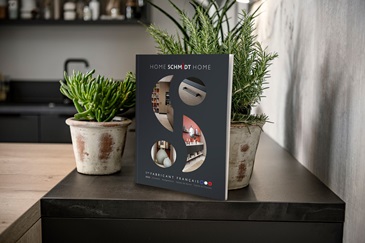 Browse through the Schmidt world catalogue in the privacy of your own home.