Fitted & corner wardrobes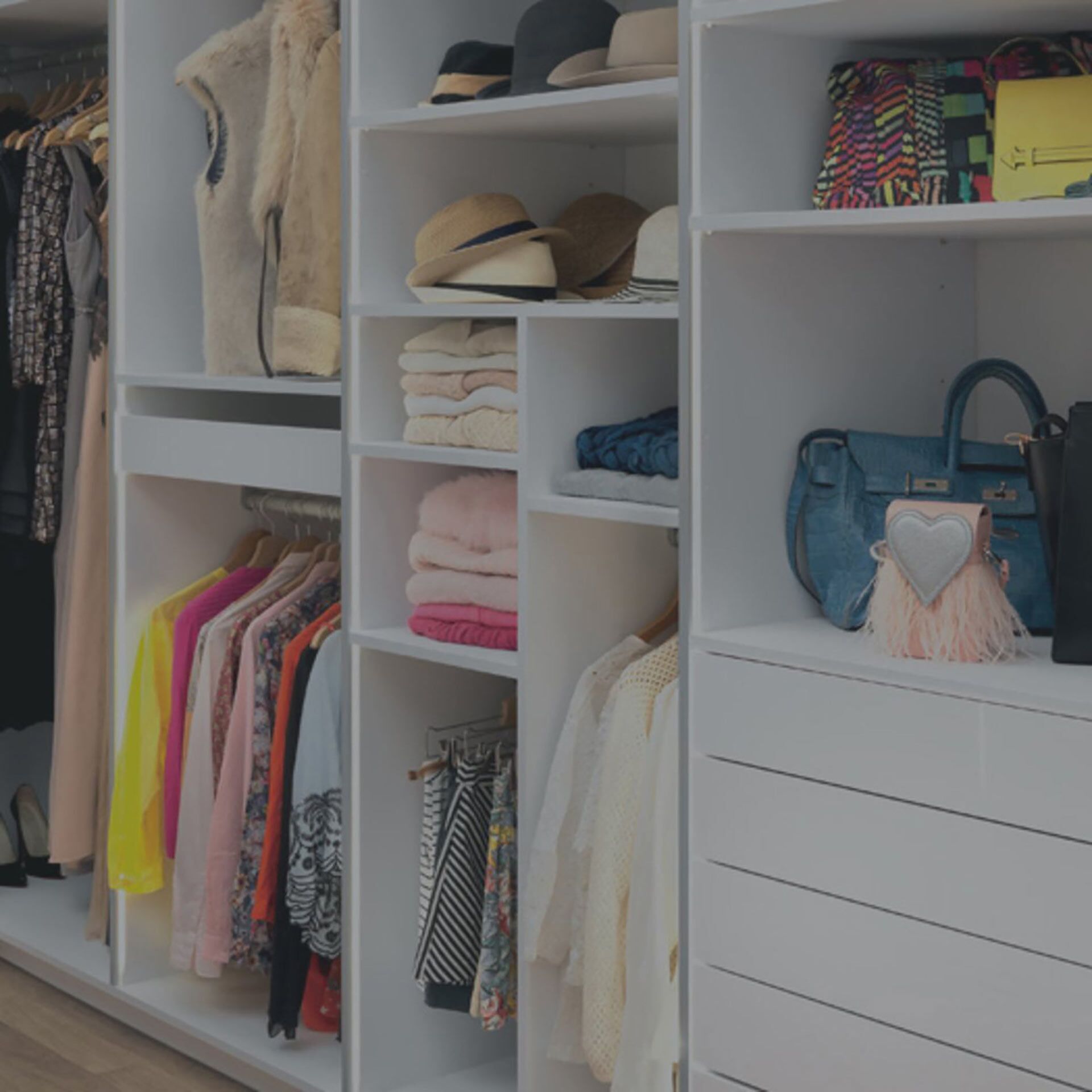 What has every fashion addict been dreaming of? Creating their very own dressing room, whether in a separate room or their bedroom, and designing an immense and well-appointed wardrobe with countless storage spaces. SCHMIDT can design the ideal walk-in wardrobe while making use of every nook and cranny, even in an attic room. Choose the number of wardrobe spaces with pre-fitted clothes rails, fixed and adjustable shelves, shoe boxes, drawers and open / closed recesses. Do not forget to create two distinct areas - one for him and one for her!
In most cases, fitted wardrobes come with track-mounted sliding doors for even easier use. High-gloss geometric motifs are a great way of highlighting the elegance of the wood fronts, or instead go for a more contrasting look with a combination of coloured lacquers and wood finishes. Wardrobe doors can be swapped for mirrors surrounded by an elegant frame, while unstructured recesses can easily be fitted in the corners of an attic bedroom. All that remains is to sort out your clothes and accessories before tidying them away in your bespoke wardrobe.
How do you arrange your fitted wardrobe?
To keep your fitted wardrobe perfectly organised and tidy, start by choosing storage solutions specifically designed for each type of clothing. This will make your wardrobe even more practical and functional. Tie racks, trouser racks, shoe racks... every accessory has its own storage solution!
You can also use triangular hangers for storing shirts, dresses and jackets in your wardrobe, as well as clip hangers for skirts and trousers. The wardrobe and its hangers are ideal for storing and keeping clothes within easy reach and avoiding the risk of creases. In addition, clothes can easily be identified and picked out. Slide-out bars and drop-down clothes rails are a must-have in a wardrobe, especially if you have chosen an eaves wardrobe kit, so that you can slide the clothes out in front of you without wasting any space...
To avoid losing track of the clothes in your fitted wardrobe, remember to sort your clothes by season and colour. This means that you can put together an outfit according to the weather or your mood with just a quick glance at your wardrobe.
Which doors should you choose for your fitted wardrobe?
Whether it is a question of creating the right decorative style or adapting the available space to accommodate your fitted wardrobe kit, you can choose from several types of doors. First of all, you don't have to fit doors. An open wardrobe keeps your clothes within immediate reach and contributes towards the bedroom's design. Nothing else will give you the same desire to pick out your outfit every morning!
If you are worried about dust settling on your clothes, or if you do not want your clothes to be in plain sight since the fitted wardrobe is in a busy part of the home, various door systems are available to fulfil your needs. Sliding doors are the most common type of door for a fitted wardrobe, since they offer a modern design and do not require extra space to open. Swing doors are still the best choice if you want to see the entire contents of your wardrobe with a single glance.
Important details for a fitted wardrobe
To optimise the storage space and showcase your wardrobe kit, a few accessories are essential for making all the difference. Lighting plays an important role. Not only does it make it easier to choose an outfit when the storage unit is built into a recess, but nothing else compares when it comes to spotlighting the elegance of the clothes in the wardrobe. LED lighting inside a fitted wardrobe also brings a clearly modern touch to the design.
A mirror is another must-have accessory for making sure that you have chosen the right outfit or for trying on different combinations before leaving for an evening out. A mirror door makes effective use of the available space, while offering a full-length mirror so that you can see yourself completely and see what your outfit looks like from head to toe.