Book your appointment today by getting in touch with your nearest showroom.
Open today from : 10:00 at 16:00
Timetable
Monday

10:00

-

18:00

Tuesday

10:00

-

18:00

Wednesday

10:00

-

18:00

Thursday

10:00

-

18:00

Friday

10:00

-

18:00

Saturday

10:00

-

18:00

Sunday

10:00

-

16:00
Your Schmidt Showroom in Barnet
Welcome to your kitchen designer in Barnet!
The Barnet SCHMIDT Showroom is conveniently located on Barnet High Street, in the centre of this busy London suburb. With over 60 years' experience in kitchen manufacture, design and fitting, SCHMIDT has become a European leader, with a presence all over London and the UK. The staff in our Barnet Showroom are both friendly and knowledgeable, and will be happy to help you every step of the way, whether it's a brief inquiry for a single product or a completely new fitted kitchen that you're after. Our stylish store showcases our excellent contemporary fittings and furniture, which can all be adapted to the size, shape and needs of you family home, arguably making it the best kitchen maker Barnet has to offer. Our fitting service is fully guaranteed whilst all appliances and fixtures come with excellent warranties.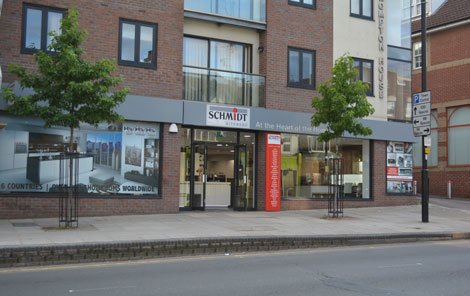 The best for your kitchen, your wardrobe and your bathroom.
A SCHMIDT kitchen can revolutionize the way you cook, clean, dine and socialise. Whether you want to maximise space with an open kitchen, want to add a stylish kitchen island or need bespoke countertops, our fully customisable and precision-engineered products are the solution. We also offer bespoke furniture for other rooms in the house. Tidy up your bedroom with our modern wardrobe solutions or select innovative fixings and fittings from the excellent SCHMIDT bathrooms range. Our leading range includes home office, living room and dining room solutions too. To modernise house and home is to improve the quality of your life and whatever you are looking for, Schmidt has the answer.
See you soon in your kitchen store in Barnet!

> Discover all our kitchen showrooms in London

Your project in four steps