Book your appointment today by getting in touch with your nearest showroom.
Open today from : 10:00 at 17:00
Timetable
Monday

10:00

-

17:00

Tuesday

10:00

-

17:00

Wednesday

10:00

-

17:00

Thursday

10:00

-

17:00

Friday

10:00

-

17:00

Saturday

10:00

-

17:00

Sunday
Closed
Schmidt Cheltenham reviews
Your Schmidt Showroom in Cheltenham
Welcome to your kitchen designer in Cheltenham!
At SCHMIDT Kitchen and Interior Solutions Cheltenham, we offer bespoke kitchen, bathroom, and home furniture and decoration products with exceptional beauty and extraordinary functionality. If you are looking for a reputable Kitchen designer Cheltenham, we have been at the forefront of innovation in the kitchen, bathroom and home furniture for the past 60 years, helping millions of customers achieve their dream kitchen with high-quality made-to-measure kitchen units that come assembled and ready to beautify your private space. We offer a personalised service to each customer based on their unique preferences, home needs, and budget. We have an experienced team on hand to help you through the selection process so you can have the kitchen, bathroom, and office furniture of your dreams without breaking the bank.
The SCHMIDT Cheltenham store has an impressive showroom complete with sophisticated kitchens, home living displays, and a state-of-the-art creative studio where you can visualise the perfect kitchen and home decorations that will make your home a palace. At the showroom, you will have the opportunity of testing first-hand our extensive collection of high-end products to add flair and functionality to your home or office. Our bespoke kitchen, bathroom, home and office furniture, and appliances are engineered to deliver the most utility and aesthetics and are affordable. Whether you love the shabby-chic feel of rustic environments, the high-class tone of contemporary kitchens or the sophisticated aura of modernistic furniture pieces, we have a team of talented designers who will help bring your kitchen and home beautification ideas to life.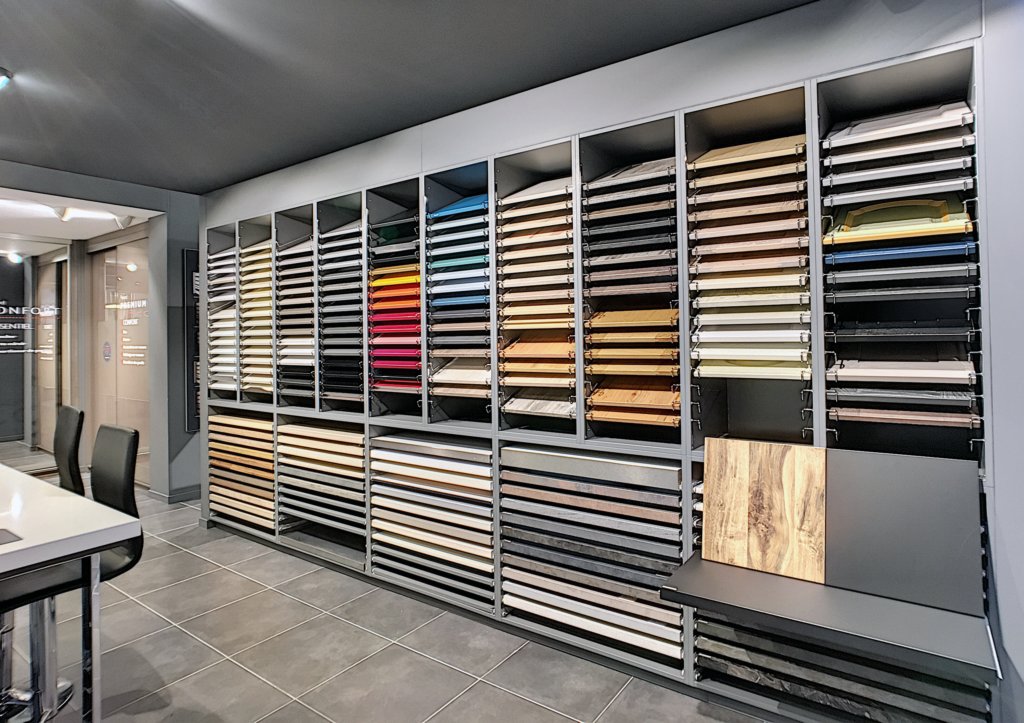 The best for your kitchen, your wardrobe and your bathroom
SCHMIDT is an industry leader on transformative, affordable and high-quality kitchen and home furniture solutions, and we live up to the reputation through the thousands of custom-made furniture, accessories, and appliances that we deliver to customers every year. Regardless of your preference, you will find a perfect choice in the company's collection of ergonomically built fitted kitchens, kitchen islands, bathrooms, wardrobes, lighting, accessories, and appliances that offer exceptional visual, functional, and practical characteristics. If you modernise house structures and need to remodel your kitchen, we provide affordable and high-quality custom-built modern and rustic kitchen units. We also carry a breathtaking array of high-quality kitchen tables and chairs, storage solutions, sinks, lighting, flooring, home equipment, and appliances, among others. We provide a 10-year guarantee on all furniture, 15-year guarantee on sliding doors and rolling mechanisms, and 25-year guarantee on drawer runners and hinges.
Whatever your taste, style, or budget, rest assured we will always have the ideal options for your unique situation.
See you soon, the SCHMIDT Cheltenham team.

Your project in four steps